---
Beck Patton – Class of 2010
GoodStart Centre Director
Beck graduated in 2010, and has always known that she wanted to work in Childcare. After her first placement in a Kindergarten Beck says she was hooked. After completing Year 12, she was accepted into a Diploma of Children Services, leading her to be hired at Goodstart Early Learning.
Over Beck's first 4 years of working in the Early Education industry she was offered a leadership position, allowing her to operate and run her own service at the young age of 24. She has now been a Director for 4 years, which has been challenging and exciting. Recently she has been appointed as a mentor to new Centre Directors and Assistant Directors across Ballarat.
One piece of advice is not everything goes to plan, which is okay. When leaving school you may have an ideal career, but may realise that it's not for you or even find passion in another area of expertise. Life is constantly throwing opportunities, pick one and dive in.
Congratulations on your endeavours at Goodstart Early Learning!
Do you know any Alumni that are kicking goals in the real world?
E-mail our Alumni Coordinator, Kirby, via alumni@phoenix.vic.edu.au
Register Your Details
As a past student or staff member of Phoenix P-12 Community College, we invite you to 'Register/Update Your Details' and stay connected.
As a Phoenix College Alumni, you are part of a family of graduates who now form a special part of our community and our College's history. Your relationship with Phoenix is lifelong and we invite you to remain engaged with the school, your teachers and friends. Stay connected by sharing your stories, attending events and keeping in touch with us!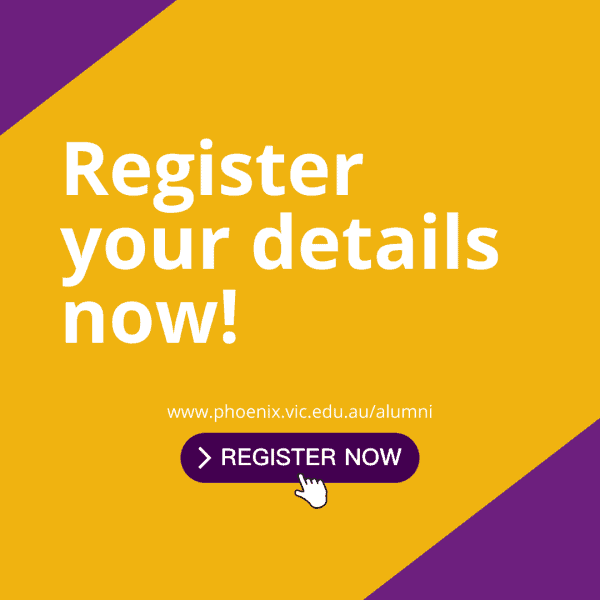 Stay updated with Alumni Achievements and Stories via our Alumni Facebook Page.